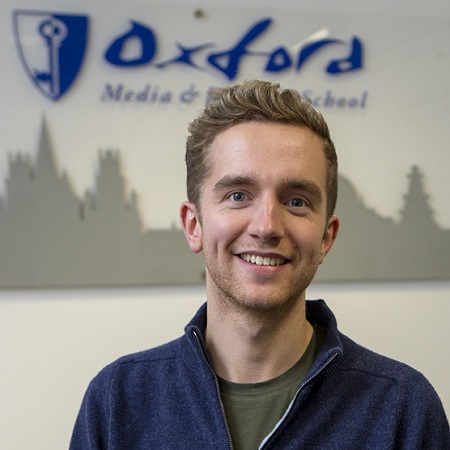 George is half way through the course and so we thought it might be the right time to find out more about how things are going and what he has planned for the future.
Why did you choose to come to OMBS?
There were many reasons. I have always had an interest in business and that has grown with time. I was never that interested in studying the academic concepts of Business at school, but now, being 23, I thought that ship had sailed and I was going to find it difficult to work within an office environment with just fundamental business skills.
I would never have thought to enquire about this course if it wasn't for my sister. She graduated from the college in 2015 and has been raving on about it ever since. She mentioned it was one of the best times of her life and she would recommend anyone with a keen interest in the field to enrol.
Having been working in the Fitness Industry as a Personal Trainer for 2 years, then onto Event Management, I realised that I wanted to find a new challenge and also gain new skills that would help me forge a new long-lasting career for myself.
Once my sister had persuaded me to go to the college and see what I thought (after months of persistence on her part), that's exactly what I did. Speaking with the Principal and having a tour of the college, I knew straight away this would be the perfect environment for me and that I had to sign up. The rest was history.
What are your plans for the future?
When I graduate in July I aim to be using my Diploma to get a job and work in Central London. I see myself working in a big company environment, suited and booted, located in Canary Wharf, as a Team Assistant. With hard work and dedication, I aim to prove myself and progress towards becoming an Executive Personal Assistant for an entrepreneur by the time I am 30.
In terms of the type of industry I see myself working in it changes monthly, but as it stands, I think I will start out in marketing.
Answering this question would have been very different 12 months ago, yet with the support of the college and their Personal Development Programme, I have a much better understanding of who I am, what I like, what I'm good at and where I see myself.
Is there a business sector you are particularly interested in?
I definitely have an interest in working in Marketing, Media and Film and Banking.
What is it like living in Oxford?
It's fantastic. It's the perfect stepping stone to take if you're not used to living and working in a city and aspire to work in London one day. I believe it gives you a feel for what it could be like living in the fast-paced and busy environment that London is, without feeling totally over-whelming and huge. You have everything you need right on your doorstep, endless amount of activities and tourist destinations to explore, teachers on hand anytime during the working week, and much, much more. I highly recommend living and working in Oxford, be that at any stage in your life.
Do you live in a college house?
The student lifestyle for me is excellent. I am a short 15-minute walk from the college, and if I am short on time there are buses running every 5 mins around the clock. It's really helpful to be living with students who are also at the college, as this means you are likely to have similar interests and then share mutual friends. 
What is your favourite lesson?
If I am being completely honest, and although it sounds like a cliché, all the lessons are my favourite. This is partly due to the high quality of teaching, and all the teachers are incredibly friendly, supportive and inclusive.
If I had to pick a favourite lesson of the week, I would have to choose PDP (Personal Development Planning), because we're all thoroughly enjoy getting to know ourselves and analysing our strengths, weaknesses and how we come across to others. At the end of the day, employers hire people, as well as skills, and so if you have great inter-personal skills and likeability, you're winning.
What it was like in the first week?
The first week was very nerve-wracking yet exciting to be starting my journey with OMBS, which will hopefully be the catalyst for a very long and successful career.
Sally (my group tutor) immediately made us feel welcome, relaxed and comfortable and informed us that we can come and speak with her if we have anything that we might be struggling with. Sally is totally lovable and the feeling across all students is mutual.
The Freshers Fair had everything a student would want. I received my exclusive discount code for the nearest gym and signed up that afternoon. All in all it couldn't have gone more smoothly.
George is taking the one year Professional Business Diploma at Oxford Media & Business School. Find out more about the course and how it can be a fast track to a great career.