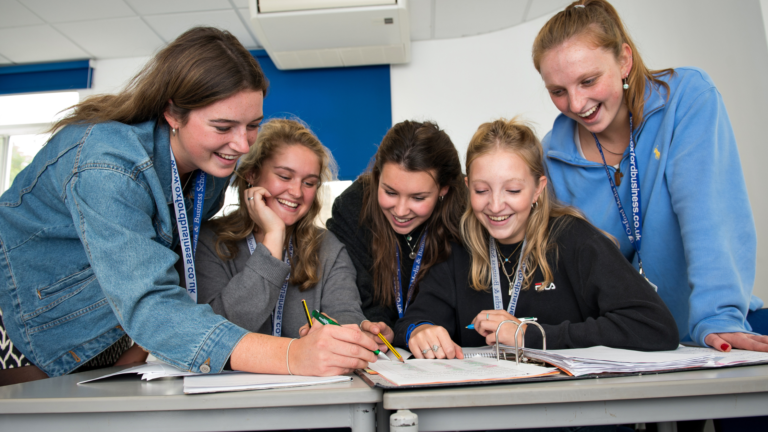 In the first 12 week term of the Professional Business Diploma our students are introduced to a wealth of skills and knowledge across the whole curriculum, based on spending over twenty hours per week in tutored classrooms.
In term two, the knowledge and skills they have learnt so far starts being put into real life workplace practice in a ten week long combined module "dragons den" style project.
These modules include advanced IT, digital marketing, event management, business skills and professional skills. The team work required on the project also means students have to consider and implement what they have learnt about themselves so far in their personal development planning module.
The project culminates in a formal business pitch to a team of "dragons" (OMBS tutors!) in the final week, in addition to students being continually assessed throughout the term in their module assignments.
Headed up by Amber Canty, Head of IT & Network Manager at OMBS, the work for the project is supported across all the curriculum modules throughout the term.
Skills Are Best Learnt Through Practical Application
We know from experience that skills for the workplace are embedded and learnt through practical application. This project enables our students to implement what they have learnt so far in a small start-up business idea that they come up with themselves.
Students are split into small groups of 3-4 people decided by tutors at the start of the term. This means they have to learn how to work as a team with peers they do not know as well as their friends, much like the reality of the workplace.
They are then required to tap into their learning of the Belbin team roles throughout the project for the purposes of ensuring that they work smoothly together, playing to their strengths in order to achieve the work and numerous group assignments they are set.
Their goal is to develop a business idea and pitch for £50k investment from the "dragons" in week ten of the term.
Business Skills Students Are Assessed On
The project requires students to submit a range of documentation across the modules for assessment purposes, with assignments being completed and submitted as a group as opposed to individually.
These include the delivery of –
The definition of their company overview and values
Competitor analysis
Design of a workspace for their business, including an equipment expenditure report
Invoicing documentation
Company meeting minutes and agendas
Market research, user personas and a digital marketing launch plan
Customer communication – letter heads, compliment slips and business cards
Website creation
Company branding style guide
A launch event plan
Creative business mood boards
Creation of a job advertisement and job description for the vacancy page of their business website
The "Dragons Den" Pitch Week – A Chance To Practise Presentation And Speaking Skills
In the final week of the project, students present a business pitch to the "dragons" – a panel of no less than six OMBS tutors who question them about their business and the materials they submit with their business portfolio on the day.
Students can get really creative at this stage of the project! They can create branded mood boards for the pitch room and bring their businesses to life with materials and samples for the dragons to see, taste and touch – much like the TV programme!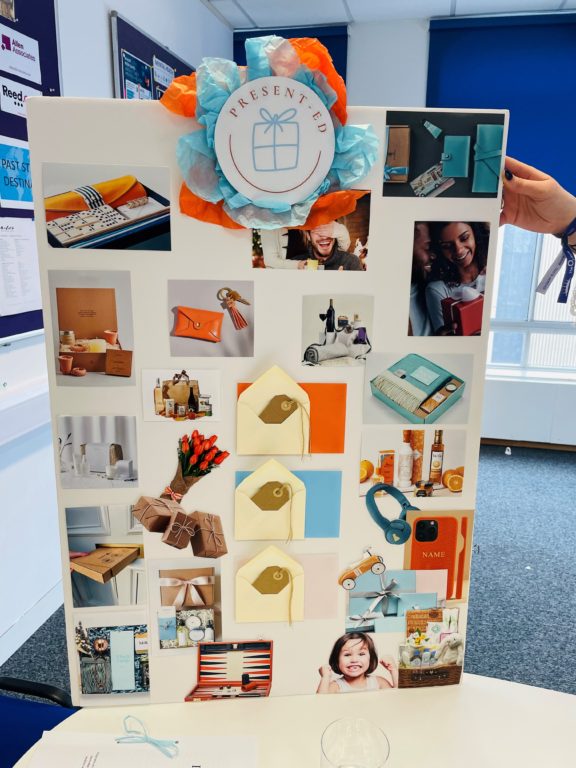 In 2023, dragons got to taste cocktails for a sustainable pasta straw business, were given cupcakes by a bamboo potty business for toddler toilet training, and could look at various outfits put together by a sustainable rental fashion business.
Students present their pitch on their feet for no less than 15 minutes, putting into practise the presentation and speaking skills learnt in the professional skills module. Each team member must take an equal part in the presentation. There is no place to hide in the pitch room!
Students are assessed on the clarity, structure and flow of the presentation delivery, presentation timings, their responses to questions and knowledge of their business, group appearance, quality of materials presented and their overall creativity. They are also assessed on both verbal and nonverbal communication, so everything counts in the room!
This is in addition to the numerous project assignments submitted throughout the term!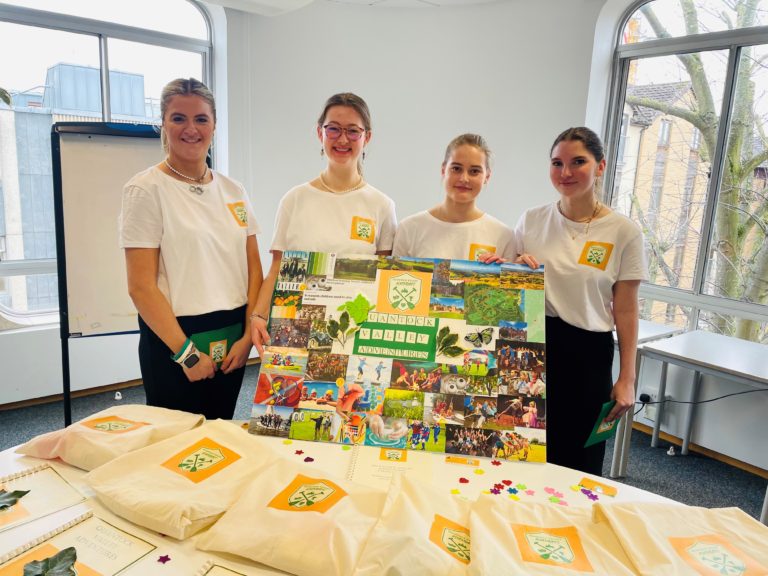 OMBS Students Showcase Their Skills In Pitch Week
Over the course of the ten weeks, tutors see a combination of hard work and excitement building towards the pitch presentations.
Students demonstrate the ability to prioritise tasks and assignments as the workflow builds up towards this week of the term. Results are delivered through effort, team work and great communication with their peers, all of which are a joy to see.
On presentation days tutors are also highly impressed with the student confidence that has developed over the six months of the diploma. To hear them presenting clearly and standing in front of the panel confidently as individuals is a testament to their learning and skill development.
As our project lead Amber says, "Presentation week is a celebration of the students hard work and efforts across the ten week term!"
We congratulate all our students for this achievement and we can't wait to see what business ideas are brought to life in 2024!
If you would like to find out more about the Professional Business Diploma click here or contact our Registrar Sarah Badger at sarahb@oxfordbusiness.co.uk