We are asked this question at least once a week and we know its difficult to believe but our graduates really are securing employment either before or within 12 weeks of graduating. The press will tell you that for a graduate, the world of work is a tough cookie to crack, and that is probably true for most university students (hang on, do you crack a cookie?). BUT we do things a little differently here at OMBS – want to know our secrets?
To quote our Principal, Andrea Freeman:
"We are currently in term 3 of the course and our partner agencies are busy interviewing our current students for their work experience placement.
Unlike a university experience, the way it works at OMBS is this.
I work with partner recruitment agencies in London, Oxford, and Australia – they know me and most importantly, they know the course. They know the calibre of our students and they work hard to find our students a job once they've graduated. If a student is genuinely looking for a job, then our success rate of graduate employment is 100%."
How might you ask? I know, it sounds too good to be true…
"As a small, independent business school we can really dedicate our time getting to know our students, which pays dividends when it comes to this stage of the course. We are sent the most fabulously, exciting jobs across worldwide, I can then work with tutors to target individual students for these jobs and as the course is so comprehensive, 9 times out of10 our students get the role. To quote Caroline baker
"I now find myself only looking for OMBS graduates."
Term 3 is structured around the following principle: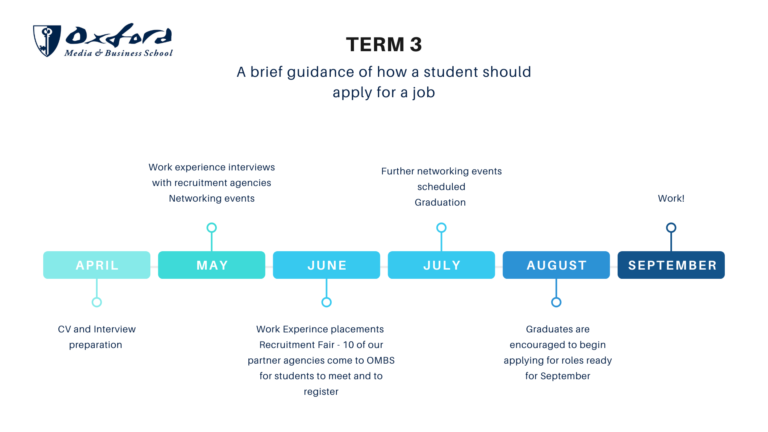 For those students who are looking to start work in July, they will be asked to register with agencies in a couple of weeks, for those looking for August they will be asked to register in 4 weeks' time and the September students will be registering at the Recruitment Fair. See the process below
The diary for this term is looking like this:
16 May – 26 May – Mock interviews
17 May, Presentation about working in Sydney, Australia from our partner agency
23 May – Past Student Day (this creates lots of ideas and job awareness) our past students come and talk to our present students about their career journey since graduating.
13 June – 17 June – Work Experience
22 June – Recruitment Fair (10 of our partner agencies come to OMBS for students to meet and to register)
4 July – Speakers Day (Representative from different sectors introduce themselves to our students)
6 July – Graduation Day
So, as you will have seen, we are not only delivering a valuable, highly regarded course, we are also 100% committed to securing our students fabulous jobs!
Have more questions? Call us!
Oxford Media & Business School offers the 12-month Professional Business Diploma for ambitious students who want to start their career within 3 terms rather than 3 years. Perfect as a Gap Year alternative, an outstanding alternative to university or would suit a university graduate needing to get the skills to join the job market.